So on a whim, I decided to join up with this chick over here for a thrifty gift exchange. I mean, not like I need another excuse to go thrifting, but hey, why not?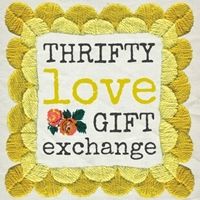 I got matched up with

Whitney

, who blogs over here at Rooted in His Grace. She's fun, and she's puuuuuurdy.
See?
I totally just stole that picture from her. Hope that's ok??
So I stalked her on her blog for a little bit, discovered that she's a thrifting expert, friends, for real. She's crafty, artsy, and very stylish. She also happens to be studying special ed in college, and of course you know that bonded us right away.
So I skipped off to the thrift store to hunt down a cute new outfit for her fall semester that I think will look so cute with her cowgirl boots. :)
And then....
This came!
Beautiful earrings! Remind me of sea glass, and will totally go with just about every clothing item I own. Sweet!
Fun distressed painted block of wood that will look awesome on my bedside table next to a pic of my hubby and I...
and this! It's a homemade earring holder. Loved this post on Whitney's blog where she did a diy for this project...
and let's also just throw in a shameless plug for her new Etsy shop where she sells these one-of-a-kind pretties!
Can't wait to set up my haul and show you! Thanks, Whitney! and thanks for awesome exchange, Carina!